How does dental implantation take place?
Before the procedure of dental implantation, first of all, X-ray examination of the dentition of the patient is performed to reveal all the anatomical features. During the preliminary consultation, the implant surgeon learns about the patient's illnesses and bad habits that may increase the risk of rejection. After a general examination, taking into account all the individual characteristics, the doctor draws up a treatment plan and indicates its preliminary cost. Before proceeding directly to implantation, the patient should cure possible periodontitis, caries, inflammations in the oral cavity, as well as clean the dental deposits
Further, dental implantation is performed in several stages. At the first stage, a local incision is made in the gum under local anesthesia, the edge of the gum is peeled off and a bed for the implant is formed.
An intraosseous element is installed in this bed. To prevent the ingrowth of tissue into the internal threading canal of the implant, it is closed with a special plug and the wound is sutured, leaving the implant under the gum mucosa.
The next stage of the dental implantation in the lower jaw starts after 2-3 months, and in the upper jaw – after 5-6 months. Under local anesthesia, gingival excision is performed on the intraosseous element, the cap is removed and the gum former is installed.
Then, after another week or two, the implant surgeon removes the gum former and makes an impression for the dental laboratory. At the laboratory, a bridge or crown is made and anchorage is selected (abutment).
At the final stage, an abutment is screwed into the implant, and a crown or bridge is attached to it.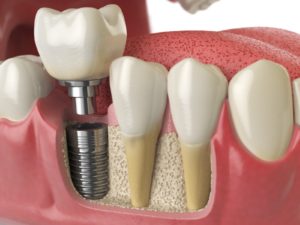 According to numerous patients, dental implantation is a procedure that allows for a reasonable price, to restore patient's health and self-confidence. To demonstrate the effectiveness of this treatment we have displayed some photos of our patients before and after the procedure.